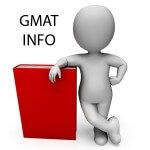 Preparing to take the GMAT takes effort, timing, and a plan.
You will need to study hard and learn to cope with stress as you schedule your exam and keep an eye on application deadlines in addition to your other school or work obligations.
We've compiled a list of useful information about the process to help you in your mission to getting an excellent GMAT score and into the business school of your choice.
What is the GMAT?
The Graduate Management Admissions Test (GMAT) is a standardized test used by business schools and programs around the world as an entrance exam to get your MBA. This 3 hour and 30 minute computer adaptive test is developed and administered by the Graduate Management Admissions Council (GMAC), and is designed to predict how successful a student will be in business school. It is considered a very important part of your application, and students interested in attending a top business school will need a great GMAT score to be admitted.
How Hard is the GMAT?
The GMAT measures a variety of analytical and problem solving skills and abilities that are considered critical in business and management. Even if you are good at math and have strong verbal abilities, you should take some time to familiarize yourself with the structure and types of questions on the exam. Although it is not impossible to do well on the GMAT without studying, studies show a correlation between how many hours individuals study and their scores.
The GMAT is scored on a scale between 200-800 (a combination of the Verbal and Quantitative sections of the exam). To give you an idea of how challenging the test is, the most selective schools like to see scores of 710 or higher, but only approximately 10% of test takers score between 700-800. A score between 650 and 720 (77th-94th percentile) is still very competitive and is generally strong enough to get into the top 25% of business schools.
GMAT Sections
The 4-part GMAT includes a Quantitative or "Quant" section (75 minutes), a Verbal Section (75 minutes), an Analytical Writing Assessment (AWA) essay, and an Integrated Reasoning (IR) section (30 minutes each).
Each section of the GMAT contains specific types of questions.
AWA Section: you will have to analyze and write a critique of the reasoning behind an argument provided on the test. This section measures critical thinking skills and your ability to communicate those in writing.
IR Section: you must answer questions related to graphics interpretation, two-part analysis, table analysis, and multi-source reasoning. This section measures your ability to integrate data to solve complex problems.
Quant Section: This section attempts to test your content knowledge of essential math skills and measures how well you analyze data and use reasoning to draw conclusions. There are two types of questions in this section: Data Sufficiency and Problem Solving. Data Sufficiency questions typically consist of a question and 2 statements of data, and you must decide if those statements provide enough data to answer the question. Problem solving questions require knowledge of arithmetic, algebra, and geometry.
Verbal Section: You must answer the Reading Comprehension questions, Critical Reasoning questions, and Sentence Correction questions that appear in this section. Reading Comprehension questions evaluate how well you understand, analyze, and apply information and concepts based on reading a text. Critical Reasoning questions involve using reasoning skills to formulate and evaluate arguments and plans of action. In Sentence Correction questions, you have to determine which version of 5 possible sentences is the most grammatically correct.
GMAT Test Dates
The GMAT is offered year-round in most locations around the world on every weekday throughout the year, except Sundays and holidays. You can go to the GMAC website (www.mba.com) to locate a test center near you and search for available test dates and times (many test centers allow you to schedule either a morning or an afternoon test.)
Although there are no specific dates and times you have to keep track of when it comes to registering and scheduling an appointment for the GMAT, don't wait too long because test centers and appointment times can fill up quickly and you might not be able to get a date or time that is convenient for you.
Make sure to check with the MBA programs you are applying to so that your exam results will be submitted on time to meet each school's application deadlines. You will receive an unofficial score report as soon as you finish the exam, but official reports are submitted to schools up to 20 days after your test date. Your registration fee includes GMAT score submissions to 5 schools or programs of your choice, which you enter the day you take the exam. You can order additional official score reports for a fee, and you will receive a copy of the score report as well.
GMAT Registration
In order to register for the GMAT online, go to the GMAC website to create an account and follow the instructions to register online. You can also register by phone (phone numbers can be found on the GMAC website), by mail, or by fax. Note that there is a $10 surcharge for registering by phone.
GMAT Cost
The cost to register for the GMAT is $250. If you need to reschedule the GMAT appointment, you will be charged an additional $50. Additional score reports (beyond the 5 that are included in the regisration fee) cost $28 each.
If you cancel the GMAT more than seven days prior to your scheduled appointment time, you will receive a refund of $80. If you cancel by phone, you will also be charged a service charge of $10. (So essentially, you will only get $70 back from your initial $250 registration fee if you cancel by phone 7 days in advance.)
If you cancel your appointment less than seven days before your exam, you will not receive a refund, and  you may be charged an additional $10 service fee for canceling.
If you miss your scheduled appointment, your registration fee will not be refunded.
If you need to retake the GMAT because you think you can do better, you can take the exam once every 31 calendar days, for a maximum of 5 times in 12 months.
Forms of Payment
You can pay to register with a credit card (Visa, MasterCard, American Express, or JCB) or debit card (Visa or MasterCard only). If you mail in your registration form, you can also pay with a cashier's check, money order, or personal check. Payments by check must be in US dollars and drawn on banks within the United States.
What to Expect the Day of the Test
How Long is the GMAT?
The length of the actual exam is 3 hours and 30 minutes, but you will need to arrive at the test center at least 30 minutes early to complete check in procedures and to complete administrative tasks prior to the exam. You are also allowed to take two optional breaks during the exam.
What to Bring to the Test Center
When the day of your GMAT arrives, make sure you are prepared with all of the required paperwork and identification you need to be admitted to the test center. Your name on your identification papers must appear exactly as the name you used when you registered for your appointment.
Acceptable forms of ID must be valid and unexpired and include: a passport, a government-issued driver's license, a government-issued national/state/province identity card (including European ID card), or a Military ID card. (If you are testing outside of your country of citizenship, you must present a valid passport).
You should also bring your appointment confirmation letter or email from Pearson VUE (if you don't have it, you may still take the test if you have a scheduled appointment).
Lockboxes are available at most test centers to safeguard any personal items you may not bring in to the exam room (e.g. cellular phones, pagers, notes, scratch paper, calculators, watches, etc.)
Be sure to also check with mba.com on what to bring and not bring on the day of your test.
Your GMAT Score
Immediately after you complete the GMAT exam and before you leave the test center, you will receive your unofficial GMAT score report, which contains unofficial scores from the Verbal, Quantitative, and Integrated Reasoning Sections, as well as the Total score.
The unofficial score report also contains the authentication code you will need to access your Official Score Report. Make sure to keep the authentication code in a safe place, as this is the only time you will receive the code!
For more information about how the GMAT is scored, see our article on GMAT scoring.
Preparing for and taking the GMAT is a challenging process that will require advance planning, consistent hard work, and determination. We hope the information above is helpful as you begin your journey to taking the GMAT and getting into the MBA program of your choice.
http://crushthegmatexam.com/wp-content/uploads/2015/06/GMAT-INFO-011.jpg
450
450
Andrew@crushthegmatexam
http://crushthegmatexam.com/wp-content/uploads/2015/09/GMAT-Logo.png
Andrew@crushthegmatexam
2017-06-04 17:56:42
2017-06-04 18:04:09
GMAT Information