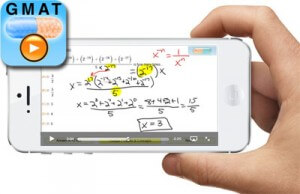 RATING: ★★★★★
GMAT Pill was founded by Stanford graduate Zeke Leeis and is one of the elite prep courses on the market. This online, on-demand video course aims to prepare you for the GMAT in as little as 30 days. Each GMAT section has a corresponding "pill" instructional module that you can buy separately, or you can purchase the whole program (i.e. all six "pills") in a package deal.
The course is accessible via computers and mobile devices, is user-friendly, and offers targeted help to non-native speakers of English as well. Lifetime access and a money-back guarantee make GMAT Pill worth the already reasonable price.
PROS
1. 30-Day Program and Lifetime Access
Although many students will want to spend more than a month studying for the GMAT, the 30-day syllabus makes it possible for those with a short timeline to work through all the material before the exam. Lifetime access means that you can take as much time as you like to study and take advantage of all the course has to offer.
If you do manage to complete the program in just 30 days (and meet a few additional requirements), you could be eligible for the course guarantee: if your score does not go up at least 50 points you'll get your money back. Be sure to check the details of their guarantee.
2. Free App for iPhone, iPad, and Android
This online course is truly portable thanks to the free apps, which allow you to download content, watch videos, and practice questions on the Practice Pill Platform wherever you are. You can keep studying even without an internet connection. The program is fully compatible with PCs, Macs, iOS and Android Devices.
3. Quality Material and Clear, Consistent Instruction
The course founder, Zeke Lee, narrates the videos and demonstrates how to work out all the practice questions himself in a way that is easy to understand. Many grateful clients praise Lee's unique instructional style for helping them understand how to approach and solve problems that left them confused when they were taking other prep courses.
Lee introduces a number of "core frameworks" to help students understand how to approach the GMAT, given that almost all GMAT questions fit into one of the frameworks. Each framework can be applied to variations of a particular type of question, making it possible to use the same strategies repeatedly to approach the questions that appear most frequently on the exam. You also get an Official Guide for GMAT (13th Edition) to help you get the basics down before you try your hand at the hundreds of available practice questions and can track your responses with the OG13 tracker.
Finally, time-restricted quizzes and practice tests are authentic and prepare you well for the actual GMAT.
4. Impressive Amount of Free Material
You can gain free access to the Practice Pill Platform, the course's online home page without even having to sign in. A selection of material, including more than 800 interactive practice questions, many video explanations, and a 3-hour timed practice exam are available at no charge. You can also post your questions and get answers. The Official Guide is not included.
One nice feature of the Practice Pill Platform is that you can see the all-time percentage of students who got any particular question right, so you can get an idea for how difficult individual questions are as you practice. Comments and questions by previous students are listed below each video, so you can check to see if your query has already been asked and answered by others.
The Recent Activity tab publicly acknowledges those students who have recently gotten specific questions correct, and where they are located in the world. There is also a list of top 100 students with the most correct answers all-time, and the top 50 with the most correct answers in the last 30 days.
5. Price
Using this 40% OFF Discount Link you can get the complete GMAT Pill Online Course for just $437! With the 50-point increase or your money back guarantee, students will be hard-pressed to find a better deal. If you only need to brush up on the Verbal or Quant sections, or even just particular type of question, you can spend even less by buying only one or a few specific "pills." For more information, see Pricing, below.
CONS
1. Cluttered Dashboard
GMAT Pill has some great content and features, and we love the amount of free material, but the course dashboard (aka the Practice Pill Platform) could be more streamlined. There is a lot going on in many different colors, which is slightly distracting until you get your bearings. It looks as though they tried to put the Practice Pill Platform, all the course information, FAQs and even students' questions and comments on the same page. The site could definitely benefit from a less confusing and busy interface.
Ideal User
The focus of this course is on maximizing students' scores in a short period of time in an online, on-demand course. Those strapped for time and money will appreciate the fact that they can get a relatively quick but thorough preparation for the GMAT in as little as 30 days. Although spending only a month studying for the GMAT is probably not optimal, it is nice to know that this option is available for those who need it. (The course's founder, Zeke Lee, allegedly studied for only 2 weeks before achieving a score in the 98th percentile).
Several comments in the promotional video and on the course site indicate that the founders also considered how best to help non-native English speakers improve their scores. If English is your second language and you are struggling with the Verbal Section of the GMAT, you may want to take advantage of some of Lee's strategies to find the right answers through a process of elimination.
Conclusion
Along with the usual advantages of taking an online, on-demand course (no commute, study whenever you have time, move through the course at your own pace), this flexible yet comprehensive program is a solid option at a great price.
If this is your first time taking a GMAT prep course, you can take advantage of the complete course bundle, which includes core frameworks, the official guide, videos, practice exams and practice questions for all sections on the exam.
If you just need to brush up on specific skills or need extra practice on a few sections to bump up your score, you can buy only the "pills" you need and focus on those. All told, GMAT Pill delivers a great product in a user-friendly package that is guaranteed to improve your score by at least 50 points. Test drive the Practice Pill Platform today and create your free account to see if this is the right program for you!
Summary of Course Features
Online, on-demand course can be completed in 30 days
Lifetime membership and upgrades
Unlimited access to Practice Pill Platform
Choice of focusing on one, several, or all "pills" to master different question types
Online error log book to track mistakes and progress
Official Guide (OG) tracker
1,073+ Practice Questions
80+ hours of video instruction and explanations
Realistic Computer Adaptive Testing (CAT) to simulate the actual GMAT
24/7 customer support (email)
Guaranteed 50-point increase or your money back
Pricing
The GMATPill Online Course: 6-Pill Lifetime Membership
Price: $437
Includes: 80+ hours of video instruction and video explanations, course material for all 6 pills: SC, CR, RC, PS, DS, and IR Pills, access to Practice Pill Platform, practice questions and explanations, access to premium content on "GMAT Pill HD", iPad app, iPhone app/Android app, online error log book to track progress, OG13 tracker, 24/7 email support, free lifetime upgrades, timed practice CAT Tests with timing statistics, 50-point increase or your money-back guarantee. Special summer promotion includes 6 Free CAT Tests from GMATClub for 6 months included in purchase.
GMATPill Verbal Pill Package
Price: $307
Includes: SC Pill, CR Pill, RC Pill
The GMATPill Quant Pill Package
Price: $194
Includes:PS Pill, DS Pill
GMATPill Stand-alone Video Course For Each Section
Price: $100-$150, depending on Pill
Includes: Video Course for one question type. Choose from: Sentence Correction, Critical Reasoning, Reading Comprehension, Data Sufficiency, Problem Solving, or Integrated Reasoning.
---
GMAT Pill Breakdown
| | |
| --- | --- |
| GMAT Pill Review | Strengths  |
| 1. | Lifetime Access |
| 2. | Free App |
| 3. | Clear Consistent Instruction |
| 4. | 40% OFF Discount Code |
| 5. | Impressive Amount of Free Material |
http://crushthegmatexam.com/wp-content/uploads/2015/05/gmatpill-01.jpg
336
336
Andrew@crushthegmatexam
http://crushthegmatexam.com/wp-content/uploads/2015/09/GMAT-Logo.png
Andrew@crushthegmatexam
2017-01-02 22:30:38
2017-06-04 16:55:34
GMAT Pill Review