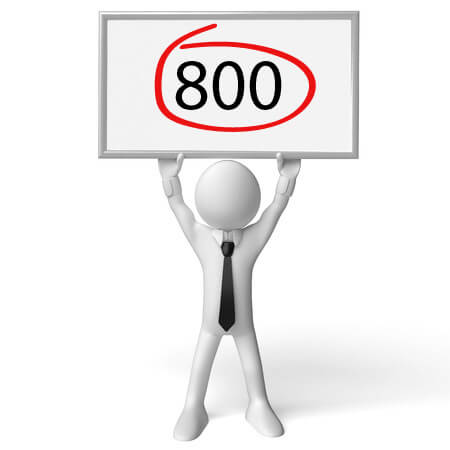 The Graduate Management Admissions Test (GMAT) is a 4-hour standardized test used by more than 2,100 universities and institutions all over the world in their admissions decisions process. The purpose of this computer adaptive test is to predict how successful a student will be in business school.
It measures various analytical and problem solving skills along with other abilities that are considered critical in business and management. The 4-part GMAT includes a Quantitative or "Quant" section (75 minutes), a Verbal Section (75 minutes), an Analytical Writing Assessment (AWA) essay, and an Integrated Reasoning (IR) section (30 minutes each).
How Is The GMAT Scored?
The GMAT has a more complex scoring system than many other standardized tests.
For the two longest sections (Quantitative and Verbal) your score will be on a scale of 0-60. The Verbal and Quantitative scores are then combined into a Total score on a scale of 200-800. These two sections are part of the computer adaptive test.
This means that as you answer questions in one of these sections, computer software evaluates each answer, updates your score, and chooses the next question from a question bank by adapting to your apparent skill level. You may not skip or return to questions.
The Analytical Writing Assessment (AWA) essay is not computer adaptive and is scored on a scale of 0-6.
The Integrated Reasoning (IR) section is also not computer adaptive and is scored from 1-8 in full point increments. The IR and the AWA are scored separately, and they are not included as a part of the 200-800 score for the combined Quant and Verbal sections.
To summarize, your score report will contain 5 different scores:
An AWA score between 0-6
An IR score between 1-8
A Quantitative score between 0-60,
A Verbal score between 0-60, and
A total score between 200-800 for the combined Verbal and Quant sections
An official score report will be mailed to you (in addition to an email with a link to the official score report online), however, unofficial scores from the Verbal, Quantitative, and Integrated Reasoning sections and the Total score are available as soon as you finish the test. You should keep the unofficial report, which includes an authorization number that you will need to gain access to your official scores. At the beginning of the test you can select 5 programs to receive your Official Score Report; they will get the report within 20 days of your exam date.
GMAT Score Range
The number that most universities and programs list when they publish admissions statistics is the Total score, which is the combination of the Quant and Verbal sections and ranges from 200-800. For example, Harvard Business School reports that the GMAT score range of its most recent incoming class was 510-790, and the median GMAT score was 730.
The highest GMAT score you can get is an 800, but scores between 760 and 800 are all in the 99th percentile.
GMAT Percentiles
Your score report will also include your percentile rank, which indicates the percentage of test-takers who scored lower than you for the previous three years. Each exam taker's score is updated with the most recent year's percentiles. For example, if you have a Total score of 690, that puts you in the 87th percentile. This tells admissions committees that your Total score was better than 87 percent of all GMAT test takers over the past three years.
What Is A Good GMAT Score?
The mean Total GMAT Score over the last 3-year period is 547.35
Here are the mean scores by section:

Integrated Reasoning: 4.33
Quantitative Section: 38.03
Verbal Section: 27.04
Analytical Writing Assessment: 4.34
To determine your target score for the GMAT, you will need to know the average GMAT scores of accepted students at the business schools and MBA programs to which you plan to apply.
Typically, a score above 710 puts you in the running for the most selective schools, and anything above 750 is considered extremely high. Don't forget that schools also base their admissions decisions on other parts of the application too. For example, your work experience and references, your undergraduate GPA, how well you did in your interview, and your essays are all important factors committees will consider.
Even the best GMAT score won't get you into your first choice school if the other parts of your application are lacking. Remember also that the median GMAT score for a particular school is not the minimum score you need to get in, and that roughly half of the applicants who were admitted had GMAT scores that were lower.
A score between 650 and 720 (77th-94th percentile) is still very competitive and puts you in the running for the top 25% of business schools, whereas a score between 600 and 650 (61st-77th percentile) will generally get you into schools in the top 50%.
You can use a GMAT score calculator to predict your Total score based on practice exams, and to see which schools accept candidates in your score range. Score calculators are available online from various test prep companies and MBA informational websites. You are typically asked to enter your section scores to generate a total score and are then matched with schools.
Most Competitive Schools by GMAT Score
The top 10 U.S. business schools admit students with median GMAT scores of 714 and above.
The chart below shows some of the top ranked business schools in order of having the highest average GMAT score for enrollment.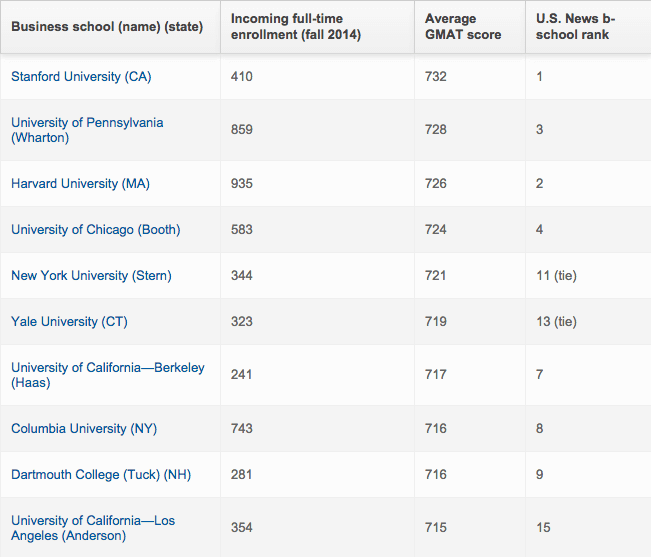 (Chart Source: U.S. News )
Average GMAT Scores For Top 20 Business Schools
The top 10 business schools in 2015, as ranked by U.S. News & World Report, include Stanford University, Harvard University, University of Pennsylvania (Wharton), the University of Chicago (Booth), MIT (Sloan), Northwestern University (Kellogg), the University of California-Berkeley (Haas), Columbia University, Dartmouth College (Tuck), and the University of Virginia (Darden).
For entrance into the top 20 business programs in the country, you will typically need a GMAT Total score above 680. The following schools were ranked #11-20: New York University (Stern), University of Michigan-Ann Arbor (Ross), Duke University (Fuqua), Yale University, University of California-Los Angeles (Anderson), Cornell University (Johnson), University of Texas-Austin (McCombs), University of North Carolina-Chapel Hill (Kenan-Flagler), Washington University in St. Louis (Olin), and Carnegie Mellon University (Tepper).
As a prospective business student, you should research the MBA programs that most interest you and tailor your application to each school. Find out as much as you can about the application process and the strengths and specialties of each particular program, and use that information to your advantage.
Read the information and instructions from each school carefully, take advantage of business student forums, and follow the advice that is often provided by prep course companies on the application process. Success is often the result of diligent research and hard work. If you study hard, research your options, and focus on preparing the best application you can for each school, your chances of getting into your dream school are much higher.
---
http://crushthegmatexam.com/wp-content/uploads/2015/06/800-score-01.jpg
450
450
Andrew@crushthegmatexam
http://crushthegmatexam.com/wp-content/uploads/2015/09/GMAT-Logo.png
Andrew@crushthegmatexam
2017-01-02 20:45:42
2017-01-04 09:43:34
GMAT Scoring