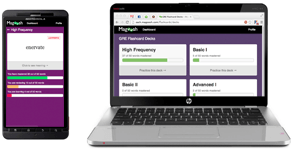 RATING: ★★★★★
Magoosh GMAT provides students with a great prep course that is affordable and user-friendly. Options include three basic, on-demand choices that allow students to cover all parts of the GMAT in the premium version, or only the Quant or Verbal sections. Magoosh's affordable price and overall quality of study materials make it the best bang for your buck course on the market.
Please note Magoosh GMAT is one of our affiliate brands and as such we receive a small commission at no cost to you if you choose to purchase this prep course. We investigate each course to keep you informed on both the good and the bad of each course, and hope that it helps you find the right course for your needs. Only use the links if you find this review helpful, thanks!
PROS
1. Quality Study Materials
Magoosh GMAT has a well-designed, streamlined course page that makes it easy to navigate among video lessons, practice questions, and other course content.
The dashboard suggests specific video lessons based on your performance, tracks your correct and incorrect answers, and lets you know how you stack up against other students taking the course. The ability to estimate your Verbal and Quant scores is a nice plus, although reports of its accuracy vary.
Students who buy the premium course have access to more than 800 practice questions that span a wide range of levels for one year. Each question is identified by difficulty level, and the questions are very similar to those on the actual GMAT exam.
This makes it easy to target precisely those higher level questions that may be challenging you and keeping you from your best possible score. You can filter questions by type and difficulty area for more customized practice sections. All questions also come with a video explanation.
There are two kinds of videos: the excellent lesson videos break down topics by type and provide overall strategies, and the video explanations for questions are short but detailed. You also get access to video transcripts so you don't have to watch an entire video again if you want to review a particular point or strategy quickly.
2. Portability
Study for the GMAT with the Magoosh course from anywhere. You can access the course from your computer, tablet or smartphone with the mobile app (available for iOS and Android). In addition to the video lesson app, you can use the math flashcards and idiom flashcards apps to study whenever you have a few minutes to spare.
3. Price and Customer Service
Priced between $129-$149, Magoosh GMAT prep courses are the least expensive of the options we have reviewed. The carefully-designed materials and the well-organized course website are a bargain for what you pay. The price is low enough for students with enough time before the GMAT to use this program as a supplement to another prep course as well.
Customer service gets top marks for a quick turnaround time. If you email them a question, you'll get a response within 24-48 hours.
4. Score Increase Guarantee
If you enroll in the Magoosh GMAT Premium course and your score doesn't improve by 50 points, you'll get a full refund. The Math and Verbal subscriptions come with a guaranteed a 3-point increase, respectively, or you are eligible for a refund. Additional conditions apply, so make sure you are aware of the stipulations listed on the course website.
5. 7-day Free Trial
If you provide your email address and a password, you'll get access to more than 30 lesson videos and 30 practice questions for one week. Try out the personalized dashboard, lesson videos, and performance analysis, or check out the lesson library before you select the course that best fits your needs. Sign up for your Free Trial here!
CONS
1. Not Enough Questions
Compared to leading competitors, who offer their students a thousand practice questions or more, the 800 practice questions in this  program fall a bit short. It takes time to create quality materials, such as video explanations to go along with each question, however, students will want to practice as many questions as they can before they walk into the exam and may need to look elsewhere for additional practice.
2. Few Practice Tests
Only the premium course includes practice exams, and their promise of "at least 2 practice tests" is meager compared to the competition (most prep companies provide access to a minimum of 6). Adding additional practice tests and questions would go a long way toward making this course one of the best options on the market.
Ideal User
Magoosh GMAT prep courses are perfect for visual learners who want to work at their own pace on a flexible schedule. The video lessons and video explanations will work best for students who prefer to watch lectures that explain strategies and solve problems in real time instead of reading a text or attending an in-person review course.
One of the best features of this course for those who prefer a self-study approach is the ability to customize practice sessions by category and difficulty level. The consensus seems to be that the course offers a slightly better review for the Quant section than the Verbal section of the GMAT. Many students want to focus on the harder questions only to prepare themselves for the exam, and this course makes that possible.
Finally, students on a budget with little time to study before the exam will be grateful to find a program with great material at an affordable price. A 30-day version of the premium course is perfect for those students who need a last-minute refresher course with a targeted strategy for different sections.
Conclusion
Magoosh GMAT courses fit the bill literally and figuratively when it comes to a great product at a low price. The quality content, visually appealing and user-friendly dashboard, and great customer support make this an all-around winner. If you are short on cash or time, or if you are looking for a quality course to supplement your GMAT studies, this is the choice for you. Try Magoosh GMAT's free 7-day trial today if you want to experience the course features in action!
Summary of Course Features
250+ excellent video lessons/video lesson library
800+ practice questions and video explanations
2 or more practice exams
Study schedules
1 year of access to course
Quick Customer Support (email)
Score Predictor
Sort questions by difficulty level/type
+50 total score guarantee (depends on course)

7-day money back guarantee
Pricing
Magoosh GMAT Premium Course
Price: $149
Includes: More than 250 video lessons, 800+ practice questions, at least 2 practice tests, study schedules, 12 months of access, +50 total score guarantee, email support, and score predictor.
Magoosh GMAT Math + IR
Price: $129
Includes: More than 150 video lessons, 450+ practice questions, study schedules, 12 months of access, +3 math score guarantee, and email support.
Magoosh GMAT Verbal + AWA
Price: $129
Includes: More than 75 video lessons, 350+ practice questions, study schedules, 12 months of access, +3 verbal score guarantee, and email support.
---
Magoosh GMAT Breakdown
| | |
| --- | --- |
| Magoosh GMAT Review | Strengths  |
| 1. | Quality Study Materials |
| 2. | 60% OFF Coupon Code |
| 3. | Portability |
| 4. | Score Increase Guarantee |
| 5. | 7-Day Free Trial |
Magoosh GMAT Review
Written by:
bestgmatprep@crushthegmatexam.com
http://crushthegmatexam.com/wp-content/uploads/2015/05/magoosh-01.jpg
400
400
Andrew@crushthegmatexam
http://crushthegmatexam.com/wp-content/uploads/2015/09/GMAT-Logo.png
Andrew@crushthegmatexam
2017-01-02 22:45:07
2017-06-03 21:58:47
Magoosh GMAT Review