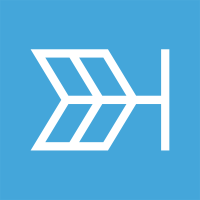 RATING: ★★★★★
Target Test Prep GMAT is an online self-study course that aims to help students boost their GMAT scores with a carefully-designed, new approach. Founder Scott Woodbury-Stewart developed Target Test Prep Quant as an immersion course that targets students' quantitative scores on the GMAT. Personalized tutoring by expert instructors and a creative approach to solving even the most difficult GMAT quant problems are the hallmarks of this course.
PROS
1. $1 Trial
Yes, you read that right – it only costs one dollar to try out Target Test Prep's course for 5 days, with no automatic recurring payment to cancel or any other obligation. The company is so confident that students will prefer their methods that they don't feel the need to sign you up for anything else until you are ready to commit. Start your $1 trial today!
2. Well-designed Platform/Dashboard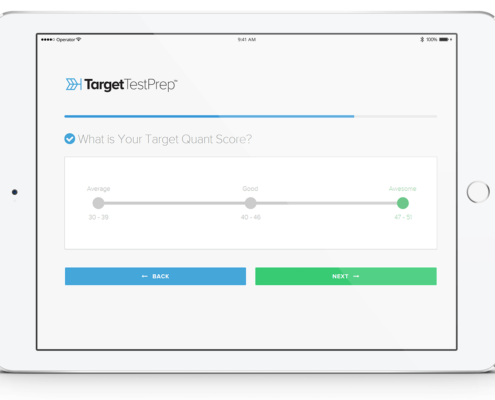 Target Test Prep's user-friendly and streamlined learning platform was designed to be highly functional and with great attention to detail. The dashboard is efficient and easy to navigate, and students will have no problem finding their way among the different modules and test options. Live help is available with the click of a button.
Additional well-thought-out features include an online note-taking space (note-taking templates) and an interactive calendar that allows you to plug in your test date to customize your study schedule. It's also easy to bookmark difficult questions or specific modules or chapters that you want to look at again.
There are two basic tracks: students can follow the regular course plan, which involves reading the information and trying practice questions within a module and then taking tests afterward. Alternatively, there is a "short study plan" option; here, students take practice tests before studying a modules (instead of beginning with the lessons), to help them identify their weaknesses quickly and efficiently, so those who are short on study time before the exam can focus on the most important areas to study.
3. Diagnostic Exams and Practice Tests
Take a diagnostic exam first and select the quant score you are aiming for to customize your learning experience. Within the learning modules, choose from easy, medium and hard practice/chapter tests. Select amount of time per problem for each test to keep track of your time per question. Timers show how much time you have left per question and how much total time is left.
Detailed analytics reveal how you and other Target Test Prep students are doing on specific practice questions so you can gauge how hard or easy a question is and how well your performance is measuring up. Once your practice tests have been automatically scored, Target Test Prep identifies which question types and topics are giving you a hard time.
You can also create custom tests. Choose from easy, medium and hard questions from all modules or select modules. One nice feature is that you can opt only to include new questions (no repeat questions) on your practice tests, or create a test that only includes the questions you missed in the past.
4. 800+ Instructor-led HD Video Solutions
Video solutions are embedded within the study modules that have practice questions. All questions in the course include very detailed explanations for answers (either in the form of written solutions or video explanations). In addition to answer explanations, links to learning modules in the practice test review area take you right to the chapter lesson that covers the material most relevant to that specific question. The link opens a new tab and window so you can easily toggle between the practice test results and the related lesson.

5. Experienced Tutors
Target Test Prep offers access to highly qualified tutors who can help students anywhere in the world. Serving as advisers and coaches, the tutors break down the different steps of solving quant problems and offer personalized instruction and strategies to help students solve problems quickly and accurately. Tutors use Skype or WebEx to interact with students.
6. Higher Score Guarantee and Flexible Pricing Options
If your official GMAT quantitative score does not go up after you use Target Test Prep GMAT Quant, you can request a full refund of the purchase price, although stringent requirements apply: you must have taken an official GMAT exam before you enrolled in the Target Test Prep GMAT Quant course and must email a copy of that official score report to Target Test Prep within two weeks. Please consult the company's website for additional details and requirements.
If you aren't sure how long you will be studying for the GMAT, you can choose month-by-month payments for $99 a month. You can easily upgrade to a 4 or 6 month plan to save money if you decide that the course is a good fit for you.
7. Exclusive Discounts
The 6 Month Target GMAT Test Prep Course has a competitive price tag of just $399. To save even more use our exclusive discount code and get an additional 10% OFF today for a total cost of only $359. Get your Target Test Prep Discount Code Today!
To find out what discounts and promotions Target Test Prep is offering this week please click here.
CONS
1. Addresses Quant Section Only
Target Test Prep gets glowing reviews from happy customers who have raised their quant scores dramatically, but there is no equivalent review option for the other sections of the GMAT exam. Private tutoring for the other sections is available, but for an additional fee.
2. No Computer Adaptive Learning/Tests
You'll get very detailed analytics and diagnostics, and you can customize your practice tests to present you with a certain kind of question at different levels of difficulty, but unlike on the actual GMAT, the questions you get on the practice tests do not reflect how well you performed on the previous questions.
Ideal User
Given its focus on the quant section of the GMAT, Target Test Prep's course is obviously best suited to students who want to raise their quant score and are less concerned about the other sections of the exam. There are no live classes, just  lessons and videos to go through, so if you are the type of student who prefers interaction with other students and instructors in a live setting, another course may be a better fit for your needs. The layout of the dashboard and overall design of the course makes it very user-friendly for students of all levels and different backgrounds.
Conclusion
Target Test Prep is a relative newcomer to the test prep industry, but many students report great success and improvement in their quant scores after trying it out. Given that only private tutoring is available to help students with the other sections of the exam, we recommend the course mainly to those who are looking for a boost in their quantitative scores.
The streamlined and efficient dashboard and intuitive design of the various course features is impressive and will appeal to most students, whether they prefer a more traditional setting or not. You can try the entire course and all the features for just $1 – so why not try it out for yourself?
Summary of Course Features
3,000+ practice questions (Quant)
500+ individual lessons
800+ HD video solutions embedded within learning modules
140 chapter tests
Equation summary guide
step by step study plan
Note-taking templates (online space for note-taking)
Ability to bookmark questions and lessons
Interactive study calendar
Detailed performance analytics
Choose from monthly billing or one-time charge
Custom practice engine
Live support
Higher Score Guarantee
Private tutoring options
Pricing
Flexible Month to Month Plan
Price: $149 $99
Includes Higher Score Guarantee, recurring billing until you cancel, 500+ individual lessons, 3,000+ practice questions, 800+ HD Video solutions, detailed analytics, custom practice engine, and live support.
Four Months of Access
Price: $449 $299
Includes everything above, but clients are only billed once.
Six Months of Access
Price: $499 only $399 with exclusive discount code!
Includes everything above, but clients are only billed once.
Personal/Private Tutoring
Price: starts at $250/hour with discounts available for bundles of hours ($225/hour for 10 hours, $200/hour for 20 hours.
Includes private tutoring in real time via online conferencing software (Quantitative, Verbal, and Integrated Reasoning sections of the GMAT.)
---
Target Test Prep Breakdown
| | |
| --- | --- |
| Target Test Prep Review | Strengths  |
| 1. | $1 Trial |
| 2. | 10% OFF Coupon Code |
| 3. | Well Designed platform |
| 4. | Diagnostic Exams and Practice Tests |
| 5. | 800+ Instructor-Led HD Video Solutions |
http://crushthegmatexam.com/wp-content/uploads/2016/05/TargetTestPrepBrightLogo.png
200
200
Andrew@crushthegmatexam
http://crushthegmatexam.com/wp-content/uploads/2015/09/GMAT-Logo.png
Andrew@crushthegmatexam
2017-01-02 22:15:38
2017-06-12 17:26:14
Target Test Prep GMAT Review